While Dad can be notoriously hard to shop for, you can find a gift that's right for him – based on his hobbies, tastes or passions.
Father's Day is fast approaching so we at the Zero Waste Lifestyle System has curated an eco-friendly gift guide that caters to a lot of male interests and passions. Whether you call him Dad, Daddy, Papa, Pops, or Father, we hope you can help him feel more appreciated, even from a distance.
We are in trying times but it doesn't mean that Father's Day is cancelled. You can just give gifts even if you can't present them yourself. 
Let Dad feel your love even from afar with wisely chosen gifts. 
Shop for Father's Day with sustainability in mind by ordering from this gift guide. Get inspired to give Dad the gift he'll surely love and cherish.
Cocktail Chameleon by Mark Addision
Cocktail Chameleon is the ideal Father's Day gift for Dads that love to entertain and are looking to elevate an occasion or unwind and end the day on a high note!
Cocktail Chameleon was awarded the "Best in the U.S.A. – Cocktail Book" by the Gourmand Cookbook Awards, took home the Silver Medal at the World Cookbook Awards, made the cut for coveted JP Morgan Summer Reading List, and was named one of the Top 10 Cocktail Books by the Tales of the Cocktail Spirited Awards.
In Cocktail Chameleon, Mark Addison provides 12 variations on 12 classic cocktails, starting with a lesson on the fundamentals of each drink (proportions, technique and ingredients) before sharing the secrets of his own recipes. Addison's ultimate goal: to inspire you to create your own unforgettable Signature Cocktails.
Beer Events At Home by City Brew Tours
Booking a tour or virtual experience with City Brew Tours is the perfect
gift for any man!
City Brew Tours offers all-inclusive beer tours with roundtrip transportation, lots of beer, food, and behind-the-scenes access to the best local breweries in 11 cities across the US and Canada. And now, for the first time ever, we are also bringing the craft beer fun right to your doorstep with our live, beer-themed interactive activities online.
Choose between two beer events at home:
Live Homebrew Experience includes
CBT Homebrew Essentials kit. We curated the perfect kit for beginners with only the essential equipment to get the job done. Providing ease of use and safety, with minimum investment, shipped right to your door.
Virtual home-brewing instruction and entertainment from a live guide. Approximately 3 hours in total.
Ingredients kit which you will transform into 2.5 gallons of delicious beer. That's a full case to share with your friends and family! 
Beer & Cheese Pairing Home Happy Hour includes
1 hour of guided beer and cheese edutainment led by an expert CBT guide, but stay and hang out as long as you'd like afterward
Learn how the professionals appraise their beer.
Enjoy the Happy Hour from the comfort of your own home with whichever beer and cheese you can find locally on your next supermarket run.
Join any public event to meet new people, or buy out the session so all your friends can have a private party from your own homes!
Hitch
Get this new water bottle/coffee cup combo designed to make everyday essentials more sustainable and easier to carry. 
What makes Hitch different from the hundreds of reusable water bottles on
the market is that it has a removable barista-approved cup hidden inside — both full-sized, insulated, stainless steel, and leak-proof.
While reusable water bottles have become fairly mainstream, adoption of reusable cups is extremely low.
This is what Hitch aims to solve, making people's coffee ritual sustainable and convenient with a cup that travels inside something many conscious consumers already carry.
Don Francisco's Coffee
Indulge in eco-friendly coffee time with Don Francisco's Coffee.
Dads and families in general, are adjusting to the new "at home" normal – from staying motivated and active, to juggling work and caring for kids and other family members. This often means pulling double- and even triple-duty, which is why now more than ever, those small comforting "normal moments," like taking that first sip of coffee in the morning, is so important. Plus, many are enjoying more coffee, in many different ways – like the quick and easy to make pods and capsules. Perfect for the dad that just has to keep things moving.
Established in Vernon, California in 1967, F. Gaviña & Sons, Inc. is one of the largest family-owned coffee companies in America and the nation's largest privately held minority-owned coffee roaster.  The company makes the highest-quality, family-crafted coffee®, including flagship premium brand Don Francisco's Coffee, popular Latin-style espresso Café La Llave, and a wide variety of other family-crafted coffees.
The Don Francisco's Coffee Family Reserve line – a top retail brand in the West Coast and also sold widely on Amazon – includes a wide array of coffees and roast styles made for a variety of brewing methods, including pods and espresso capsules. The Café La Llave brand, also available in pods and espresso capsules, is a favorite among espresso drinkers who enjoy a dark-roasted and intensely aromatic, rich, strong Latin-style espresso.
Both pods and capsule products are recyclable through their partnership with TerraCycle. They also roast and pack their Nespresso®-compatible capsules in the U.S. at their Zero Waste to Landfill plant in California.
Whiskey + Soda Canned Cocktail by Greenbar Distillery
Greenbar Distillery's NEW canned cocktail line which includes a well-balanced, crisp, and refreshing Whiskey + Soda cocktail that can help round out your boozy story!
Rich, complex, and organic, Greenbar Distillery's new line of Canned Highball Cocktails don't just come in packaging that's suitable for any activity, but also have the well-balanced quality of any bar-made spirit + mixer.
For the whiskey loving dad, the Whiskey + Soda canned cocktail is rich, smooth, and a meticulously balanced highball made with an American single malt base.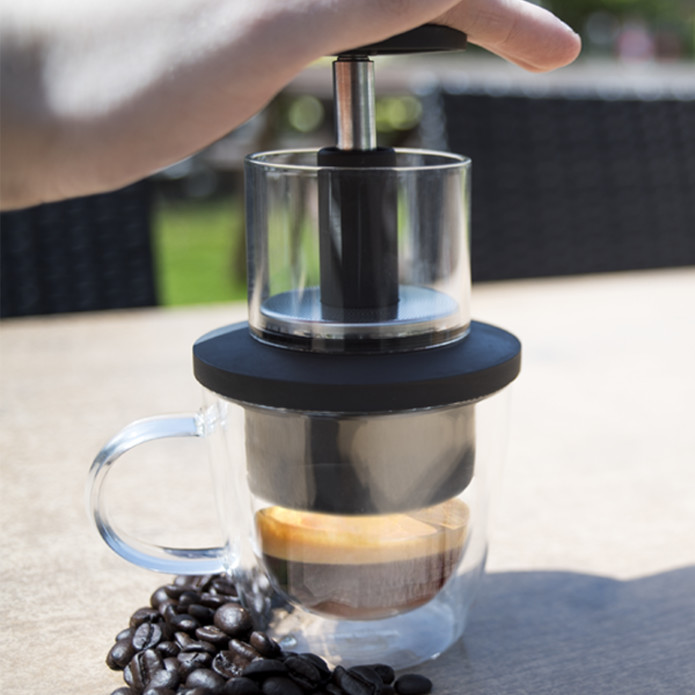 COFFEEJACK
COFFEEJACK is a non-electric pocket-sized espresso machine. This is able to reach 9 to 10 BAR pressure which is required to extract true espresso.
COFFEEJACK doesn't need any power source as it's all manual and doesn't require any filters, pods or consumables.
The idea behind this machine is to provide a barista-quality coffee on the go in an infinitely portable and an eco-friendly design.
COFFEEJACK can be the perfect companion for people to take to their work, on their travels and onto their next adventures.
Dagsmejan Sleepwear
This year, dads around the world are going above and beyond to be there for their children. On top of being a parent, they also have to be a teacher, a coach, a chef, a friend, and so much more. To honor and thank dad for his hard work and dedication, give him a technical sleepwear set from Dagsmejan that will give him the rest & relaxation he desperately needs. These scientifically-engineered pajamas will let dad get a truly regenerative sleep by helping dad fall asleep faster and stay asleep longer – the best gift of all.
Dagsmejan is a Swedish-Swiss sleepwear brand that's scientifically-proven to help people fall asleep faster and stay asleep longer thanks to its innovative, one-of-a-kind fabrics.
All Dagsmejan sleepwear is produced in Europe with partners that adhere to the highest environmental standards, and where working conditions are safe and fair
All packaging is recyclable, and this year the brand is also moving to biodegradable poly bags. Further, each of Dagsmejan's core collections have unique certifications and practices based on the materials used in each.
JJ Suspenders
Founded in 2014, Jackson and Josh (JJ) set out to create a better pair of suspenders for men. Today, JJ Suspenders are available online as well as hundreds of boutique stores around the world.
JJ Suspenders are created using unique fabrics, high-quality detailing, and real leather, a contrast to the mass-produced and low-quality suspenders for men found elsewhere. Plus, JJ Suspenders offer dual clips and button attachments as well as classic Y-backs for an updated look.
With skinny, leather, classic and formal suspender styles to choose from, there's a unique suspender for just about every man.
Whether you're purchasing for a wedding, or are hoping to refresh your personal style, JJ Suspenders for men are perfect for any occasion. 
Rockwell Razors
Give your father an amazing shaving experience, without the waste.
Rockwell believes the world needs an alternative to wasteful, overpriced cartridge razors and subscription shave clubs.
Concerned with the immeasurable amounts of harmful plastic littering our world, Rockwell Razors invented an easy-to-use, plastic-free razor that is a real money-saver – delivering a lifetime of exceptional shaves.
By helping your Dad switch to a reusable safety razor, he is upgrading his shave, saving money on overpriced disposable drug
store
razors, and protecting the environment at the same time.
This Father's Day, order from Rockwell Razors to help them in their cause against
COVID
-19 downturns. Rockwell is a member of Brands for Better, a coalition of like-minded brands united in an effort to give back to those affected by COVID-19. 
Ed and Sarna Vintage Sunglasses
A fantastic sustainable Father's Day gift is a pair of designer vintage sunglasses. Stylish and protective at the same time.
Ed and Sarna have thousands of unworn vintage sunglasses that are fitted with modern UV400 lenses to keep your papa's peepers stylish and safe from harm. 
This is perfect to complement each look from casual wear to formals.
Get authentic vintage glasses, frames, and sunglasses from the 1970s to the early 1990s. With brands like Gucci, Dior, Versace and many more from just £20. All orders are covered by a 30 day returns policy and orders over £100 get free worldwide delivery too!
The Dapper Man gift box by KADOO
A premium selection of useful, unique products for the modern dad who likes to look sharp. Beautifully wrapped in a lovely fabric that can be reused over and over again, even as a wine carrier!
Featuring: an antioxidant-rich mint chocolate crafted for superior taste ; an essential kit of handmade natural toiletries with a face towel for that weekend away plus a shave cream that makes everyday grooming luxurious. And a rosemary orange hand sanitizer to keep hands clean on the go. A versatile gift for the modern dad!
The Stay Active gift box by KADOO
This gift is perfect fo the fit dad who likes to be in shape in his home gym or outdoor, with a curated gift selection of :
– insulated water bottle to keep him hydrated,
– a fitness towel infused with binchotan (Japanese oak) charcoal, which is naturally antimicrobial and anti-odor to avoid breeding ground for bacteria which he can use post workout at his home gym indoor or outdoor,
– Men's Society Off The Gym essential kit to refresh after an exercise session ideal for keeping in any bathroom vanity or sport bags and comes in a sleek aluminum case.
– Unna Bakery Cardamon Crisp Cookies, winner of Good Taste 2017, these award winning cookies with a hint of minty flavor, are such a treat after a full hour of exercise.
Dad Who Wants To Work Out
Slim Fit Jeans BY again&again
These jeans are a great way to stay comfortable and zero-waste on those summer occasions when you still want to look sharp (and shorts just won't do).
again&again is a circular fashion brand. Their mission is to inspire circular living by offering more comfortable jeans that will never be thrown out. Instead of letting their jeans reach landfill, they recollect them from consumers in order to upcycled them into new jeans through a chemical recycling process.
The secret is a 100% lyocell fabric that makes these jeans fully recyclable. In addition, the fabric makes the jeans softer, lighter, and more breathable than normal jeans. 
Every element of again&again's jeans' design has been carefully considered with comfort and sustainability in mind: from the jeans' dark wash (saves water in production) to their rivet-less design (makes upcycling possible) to their non-leather back patch (saves cows and reduces greenhouse gas emissions).
Another thing to like about gifting Dad with these jeans on Father's Day? again&again plants a tree for every pair of jeans purchased.
SOLO RE:MOVE DUFFEL
This Father's Day, equip your Pop for his next adventure with a strong, sturdy bag.
The Re:move Duffel integrates fabric developed from respun plastic water bottles otherwise destined for the landfill. Made with a heather gray material, the Re:move Duffel includes removable / adjustable shoulder straps, a front zippered pocket, an interior organizer section with key clip, and a back panel that slides over a luggage handle.
It can fit a lot of stuff – from gym clothes to even a 15″ laptop. What makes it even better is its waterproof design.

Face Brush + Charcoal Soap by Zefiro
Face Brush + Charcoal Soap is a beautifully sleek, exfoliating dry brush. It is the perfect plastic-free alternative to conventional face scrubs.
And no, self-care is not just for women. Especially in this time where personal hygiene is a necessity for health safety, our dads would do well with a soap and brush kit that will keep them clean and fresh everywhere they go – even the wild outdoors.
Zefiro's brush is made from lotus wood and natural boar bristles. The Charcoal Soap is made from organic ingredients like Cocoa Butter, Shea Butter, Coconut Oil, Castor Oil and more offering the perfect face wash/exfoliating combo.
Zefiro is Chicago's first zero-waste, eco-friendly store. Their sustainable household, kitchen, health and beauty products are selected based on a few important criteria: alternative to a single-use product, better for both the consumer and the planet, and are simple swaps to everyday items at an affordable alternative.
As a proud member of 1% for the Planet, Zefiro is committed to donating 1% of total annual sales to support environmental causes around the world.
Universal Shampoo Bar by Upfront Cosmetics
Ditch liquid shampoo for the portability of shampoo bars! They are the perfect, travel-friendly bath companion.
Upfront Cosmetics specializes in solid shampoo + conditioner bars. Each bar replaces 3 bottles of liquid shampoo or conditioner. Their bars are free from sulfates, parabens and synthetic fragrances all while being pH balanced + Leaping Bunny Certified.
The Universal Shampoo Bar intensely moisturizes for perfectly quenched hair. Hydrating mango seed butter and hydrolyzed oat protein combat the impacts of element exposure and distress for ultimate manageability. Featuring a herbaceous scent profile of Bergamot, Wintergreen & Cedarwood. This sulphate-free shampoo bar creates an abundant lather that is pH-balanced to be mild, non-irritating, and safe for colour-treated hair.
NOMADER® COLLAPSIBLE WATER BOTTL

E
This Father's Day, give your father the gift of carrying water and other liquids on a convenient and eco-friendly way.
Give him Nomader's collapsible water bottle – perfectly portable when travelling in the rugged outdoors, even just with a backpack.
Designed with a flexible BPA-free silicone body, the reusable Nomader® bottle can be rolled-up and stashed away when not in use, yet it's as comfortable to drink from as a hard-sided bottle. This innovative travel water bottle features a patented leakproof cap, an ergonomic carry strap, and a wide mouth for easy cleaning. Additionally, the 22oz capacity (tops off at 25oz) bottle is freezable, heat resistant, and backed by a lifetime warranty.
Choose from eleven stylish colors: vibrant blue, red, green, white, orange, lime green, army green, aqua blue, purple, neon pink and cool gray.
Nomader® (nomad-er) was founded by Bryan Sarlitt, an avid traveler and entrepreneur who became frustrated with the lack of quality hydration products made for travel. Determined to find a solution, Bryan invested his savings to create an innovative, high-quality reusable water bottle that he and other travelers would love.
FinalStraw
FinalStraw–the original reusable, collapsible straw that fits in a sleek carrying case and attaches to a key ring, allowing your dad the perfect opportunity to utter, "Wow, they sure don't make them like they used to!"
FinalStraw is the world's first reusable, collapsible straw. The straw self assembles like magic and a telescoping cleaning brush is included in the case for easy cleaning. Whether you're into saving turtles or mermaids, FinalStraw is the last straw you'll ever need. 
FinalStraw assembles faster than he can say, "Don't make me pull this car over!" and is engineered to be the perfect road trip gadget.
Get FinalStraw for Dad's ultimate drinking partner this Father's Day!
My Family Loves Me by Shanalee Sharboneau
This is a great series showing all the loving things Dad's do for their children, and recognizes them like no other way. 
This award-winning children's book is beautifully illustrated to capture the young reader's attention while the charming lyrics will capture the hearts of young and old alike. 
In the titles, "My Daddy Loves Me: I'm His Little Boy", and "My Daddy Loves Me: I'm His Little Girl", Sharboneau provides books of adventure through gorgeous illustrations by Israel Dilean showing the imaginative journeys of a parent and child with fairies, mermaids, dinosaurs and dragons.  The illustrations show the beautiful bond between a parent and child in places like ancient Egypt, safari treks in Africa and magical castles.    
This is perfect for any Dad who wants to read to his children cozily before bedtime.
Tellinga
Turn personal stories into unique gifts!
Tellinga illustrates personalized stories as unique gifts and sends them through traditional mail. It can be fun, dramatic, thoughtful… anything! Your mailbox isn't dead – it's more alive than ever! 
HOW IT WORKS:
1. First, select your story length, rating, and genre
2. Next, upload a photo and add a description of your desired story (reminisce a memory or create a brand new story)
3. After receiving your request, our team of professional artists will start working on your story
4. A few days later, the designated recipient of the story will start receiving unique hand-drawn images every other day in their mailbox until the package ends.
Tru Earth Eco Strips Laundry Detergent
Each laundry strip packs ultra-concentrated, hypoallergenic, eco-friendly cleaning power into a tiny, pre-measured strip of liquidless laundry detergent that you just toss in the wash. Its low-sudsing formula  works in all types of washing machines, including high-efficiency (HE).
The smart formulation effectively seeks out and dislodges dirt molecules and stains, keeping them in suspension until they are rinsed away. It makes your laundry washing chore easier, healthier, more economical, and much kinder to our planet.
Clean, green, and simple!
Vegan: no animal-based ingredients or testing on animals by Tru Earth or its ingredient suppliers
Plastic-free – so dad can rest easy knowing that he has helped reduce 1 of
700,000,000 laundry jugs from ending up in landfills this year. Which means
he is making the planet happier and healthier for his kid's future.
The Birthing Partner Labor + Postpartum Kit by Healing Mama Co.
Does your family have a little one on the way? This Father's Day, give Dad the gift of preparedness.
Also known as the "Daddy To-Be Kit", this is a kit filled with over 20 must have and always thoughful items to help new dads (and dads expecting second or third children) thrive through labor with mama-to-be and a comprehensive guide to support him through it all.
The Healing Mama Co. Birthing Partner Labor + Postpartum Kit includes:
Birthing Partner Guide⁠ ⁠
15L Foldable Backpack⁠
Unscented Natural Deodorant by Earth Mama
Hydrating Lip Balm⁠
Pen⁠
Reusable Water Bottle⁠
100% Cotton Face Towel⁠
Eye Mask⁠
Ear Plugs⁠
Inflatable Pillow⁠
Fleece Blanket⁠
Disposable Slippers⁠
Mesh Laundry Bag⁠
Birthday Cake Protein Bar by Quest Bar⁠
Made Good Granola
Coffee Sachets
PUKKA Teas: Feel New, Relax, Revitalise
Mentos Mints⁠
Ener-C – Sport Electrolyte Drink Mix Powder
Soft Travel Tissue ⁠
Antiseptic Wipes
Face Mask ⁠ B
Even better for Dad – you can customize his kit by adding any of Healing Mama Co's 40+ ADD ON ITEMS.
VidDay
Show your love in a waste free way!
VidDay delivers an amazing eco-friendly group gifting experience, making recipients cry tears of joy around the world. They offer an easy way to rally your siblings and family into a truly meaningful surprise video montage to give on Father's Day.
Invite your siblings, family, and friends to submit video clips expressing their love and gratitude toward your father. VidDay compiles them into a beautiful unique video gift.
VidDay is very proud to be an eco-friendly and sustainable gift, which gives back to the world with every purchase.
World Journal
Give Dad the best journal to note down the best moments of his life or just to write anything he wants.
The incredibly unique World Journal is the best companion for travels, whether it be around the world or to the office. It is made in Europe with 100% recycled paper. The relief on the cover (yes, that's not printed!) is achieved using an old technique called letterpress on 35% cotton content paper and each and every cover is crafted by hand. The paper used for the blank pages is EU Ecolabel certified.
No trees were harmed in the production of this journal. It includes:
• 206 high quality blank pages plus double-paged colouring map
• Dimensions: A5 (148 x 210 mm/5.8 x 8.3 in)
• Unique, hand-pressed and biodegradable cover (colour: clay)
Sweave Bedding
This Father's Day, give the gift of a good night's sleep with the world's most comfortable bedding products.
Made with Egyptian Cotton and Eucalyptus Tencel, Sweave sheets are comfortably cool and insanely soft. Eucalyptus Tencel is not only naturally cool which helps you sleep better, but also super eco-friendly.
Sweave deeply cares about their impact on the planet. That's why their products are built to last a lifetime. 
Even better – Sweave also plants a tree for every purchase!

VIDBOX 
Make golden memories last longer with Vid Box!
Save the precious memories from your own childhood, elder relatives, and more! Compare memories and events between generations, saving and sharing them before they are lost to time and technology. Get organized before it's too late!
VIDBOX's Video Conversion and Audio Conversion products enable you to transfer your old VHS, VHS-C, Beta and other analog format Video, as well as cassette and Phonograph records, to DVD and digital formats – thus saving space, organizing your collections and most importantly – Saving Your Precious Memories, and enabling you to share them! Have Dad's old football tapes, TV recorded games, or other old memories deteriorating, convert them now.
Convert and save videos on your PC or MAC! Save $ by converting yourself!
Grate Grill Scraper by The Sage Owl
Help Dad make BBQs and grilling easier and more convenient to clean up with the Grate Grill Scraper.
The Grate Grill Scraper is one of the best selling bristle-free BBQ Grill Cleaners.
The Grate Grill Scraper was created to eliminate the danger of swallowing a wire bristle from a standard BBQ cleaning brush. On average, there is one ER visit every 3 days from someone eating a piece of wire with their food.
While BBQ grill brushes can LOSE THEIR BRISTLES (which can land in your food), The Sage Owl's bristle-free grate cleaner ELIMINATES THIS SAFETY HAZARD for your peace of mind.
With 13 grooves in the Grate Grill Scraper, you can clean the WIDEST VARIETY OF GRILLS: charcoal, gas, electric, panini, flat top, griddle, Lodge cast iron, grill pan, dutch oven, indoor oven racks, Weber, restaurant, park and campground.
The Grate Grill Scraper is made of SOLID BRASS, which makes these heavy-duty barbecue tools last for years and years. At the same time, it's 100% SAFE TO USE use on Porcelain and Teflon-coated grill grates.
Best of all, you can simply stash this compact BBQ tool in your pocket, backpack or glove box.
ENVIRO-LOG FIRELOGS
Make Father's Day more eco-friendly and easier to celebrate with Enviro-Log!
For a cozy fire in the fireplace or fire pit? Get the greenest and most versatile firelogs on the market – Enviro-Log Firelogs!
They are very quick, easy to light, and clean. They are also zero waste because they are made from 100 percent recycled waxed cardboard boxes.
Not only are they a recycled product, but when compared to firewood, Enviro-Log Firelogs burn cleaner, emitting 30 percent less greenhouse gases, 80 percent less carbon monoxide and 86 percent less creosote.  Enviro-Log Firelogs are also great for emergency preparedness because they have an infinite shelf life and are safe to cook over. 
Get them in 5-pound (will burn up to 3 hours) and 3-pound sizes (up to 2 hours). 
This is perfect for outdoor BBQ feast or a sumptuous family dinner.

Halal Beef Jerky (Khlii or Harissa) by Moroccan Khlii
It's lightweight, portable, ready to eat, clean made, packed with protein, zero added sugar, Keto and Paleo Diet compatible, Gluten Free and tastes
great!
This beef jerky is super high in Protein, minimally processed, Gluten Free, Paleo Diet Friendly, Keto Diet Friendly, Virtually Fat Free, Zero Sugar, Zero Carbs, No Additives, No Preservatives, No MSG, Handcrafted, extra lean Halal Beef.
This Father's Day, cook with Pure American Style Halal Beef Jerky with the Exotic Flavor of Moroccan goodness!

VALENCIA PRO Collection by GreenPan
One of the best ways to keep healthy is through nutrition-this means in addition to organic and carefully picked foods, we should use healthy cookware that doesn't leak toxins into your food.
Unlike other nonstick cookware, GreenPan hasn't ever used plastic in their coating-they use sand in the manufacturing process.
Made with recycled aluminum, the VALENCIA PRO collection makes every day eco-friendly in the kitchen.
Valenica Pro combines hard anodized strength & scratch resistance with a cutting-edge Magneto base for superior induction efficiency while the diamond-reinforced ceramic nonstick coating is ultra-durable and effortless to clean.
It also boasts the following features:
Diamond-reinforced ceramic nonstick
Armored Body: duoforged hard anodized bodies
Incredible strength & scratch resistance
Magneto Induction Base: high performance on all stovetopsOven safe up to 600°F
Mirror-finished stainless steel handles
Dishwasher safe
Tree Growing Kit by ForestNation
Give dad trees to grow from ForestNation. Their tree gift is wrapped with beautiful designs and contains a full tree growing kit with instructions to grow from seed. For every tree planted from their shop, they'll plant a matching tree in areas negatively impacted by deforestation and industrial agriculture.
This is the ultimate gift because for as long as Dad takes care of his tree, he will remember how you helped make his Father's Day more sustainable.
First Dance Lyrics by Old Line Oysters
Fantastic gift for Dad and Mom! In this unique handcrafted product from recycled oyster shells, let them relive the romance of their wedding.
Let Old Line Oysters hand letter a verse from your parents' first dance song into one of their signature shells. 
Oyster shell is the best, most natural material used to rebuild oyster reefs so to save this ecologically important by product, Old Line Oysters recycles 10 shells for every OLO purchased shell that otherwise would be dumped in landfills. Oyster Recovery Partnership now recycles, cleans and  treats recycled shells with baby oysters and puts them back into the waters of the Chesapeake Bay.