Learning to manage your waste is a crucial life skill. For the best efficiency, we recommend you use the 5 Rs of Waste Management: Refuse, Reduce, Reuse, Rot, and Recycle. These are the basic fundamentals of zero waste management. And you can do this even if you live in an apartment.
Although the U.S. houses only 4% of the total population, it is responsible for producing more than 30% of the total waste on earth – household waste holding a significant fraction of this number. On top of that, the poor practices of managing apartment waste continue to be a threat to not just the global climate but our health too.
As per the National Multifamily Housing Council, 52% of Americans dwell in multifamily spaces. Now, imagine how largely apartment complex owners can contribute to managing environmental concerns well, if only they adopted the right yet simple apartment waste management practices, such as trash chutes, apartment dumpsters, recycling, etc.
How To Address Waste Management in An Apartment
If you're an apartment complex owner or manager, read on for some tips to help manage waste well and cost-effectively attract more tenants:
Expand Trash Disposal Areas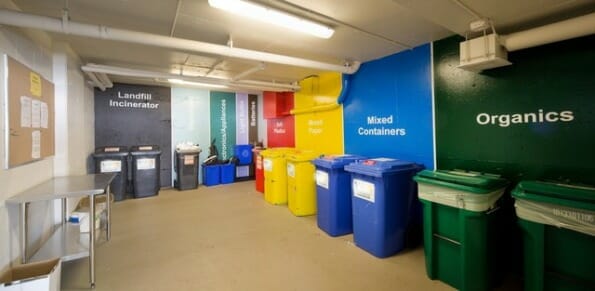 Reduce tenants' efforts to dispose of garbage and encourage them to manage apartment waste more effectively. Here are a few things to do:
Increase the number of apartment dumpsters or garbage bins.
Have trash and recycle bins placed close enough for easy access.
Implement a regular garbage pick-up service.
Install Trash Chutes
A trash chute is the most effective garbage disposal option in high-rise buildings. The vertical trash chute consolidates garbage from each floor into a singular pile at the bottom, making getting rid of the garbage so much easier.
Here are some of its benefits:
Trash chutes make it easier for waste recycling companies to collect trash since all of it is accumulated in a single place.
They reduce the risk of pests, insects, and rodents by eliminating the need for garbage bins on each floor.
The trash can be rolled off directly into garbage or apartment dumpsters, saving time and effort.
Adopt a Recycling Program
Regular move-ins and move-outs are common in multifamily spaces, due to which cardboards usually take up a lot of space in the trash bins. With an effective recycling system, the amount of apartment garbage collected in the living complex can be cut down significantly.
You may require a community representative to bring people together and work as a team. Collective effort is very important to generate lower volumes of trash.
Address Large Disposable Items
In apartment complexes, discarded refrigerators, couches, mattresses, and other household items can pile up and become a problem. Therefore, it is important to address this issue. Talk to residents and come up with a proper system to dispose of large trash items. You may have to pay a vendor a few extra bucks to make sure these items are not left out unattended in the open.
Having a dedicated garbage disposal space for such items can also make the process convenient and quicker.
Often, contractors fill up the apartment dumpsters with waste or debris from renovations, constructions, and landscaping. This results in overflowing bins and dumpsters becoming the breeding ground for insects and rodents. To stop this, you can introduce a policy that clearly states that vendors can't dispose of the trash within the premises. Strict rules and policies will reinforce your idea of keeping the premises healthy.
Address Seasonal Apartment Garbage Issues.
Even the most stringent apartment waste management policies can go for a toss during holidays. This is because the trash discarded by residents during the holiday season increases multifold because of shopping, gifting, parties, etc. To prevent this, communicate the problem to residents. This would, in turn, make the amount of trash generated more predictable. You can, then, schedule additional trash pick-ups and make sure everything is in place.
The extreme winter season can also pose some challenges, such as delayed garbage pick-ups. So, prepare beforehand with additional trash storage containers.
Most communities have become very conscious of what they are adding to the environment. So, take this opportunity and follow the tips explained above to give back to the planet and attract more tenants than ever.
Guest Author Bio:
Erich Lawson is very passionate about the environment and is an advocate of effective recycling. He writes on a wide array of topics to inform readers on how modern recycling equipment can be used by industries to reduce monthly wastage bills and increase recycling revenue. You can learn more about environment saving techniques by visiting his blog on Compactor Management Company.