Cleaning products are a daily staple in any household. In Europe, for instance, families spent 29.1 billion euros in 2018 for detergents and cleaning products. Meanwhile, in the United States, about 750 US dollars were spent on housekeeping supplies per consumer in 2018. This is an increase in comparison to the 2016 and earlier years' data and is expected to expand by 2025. Indeed, the cleaning task is becoming a more vital concern to families and individuals.
Think about the cleaning products you buy. Are you confident that money is well-spent? Or are we, little by little, conspiring towards a filthy future through the cleaners we choose?
Why should you look for an eco-friendly cleaner?
We always refer to cleaning as a task to eliminate dirt at home. Our techniques and materials may vary but the aim is one – to make our homes clean, to 'look spotless'. But what if we find out the cleaners we are using aren't really 'cleaning'? On the contrary, green cleaners are pure from sourcing and processing to by-product. Here are some reasons why you should choose eco-friendly cleaners over conventional chemical cleaners.
Toxic chemicals vs organic ingredients
Most conventional products available in supermarkets are made from chemicals, that when mixed all together, can be lethal. Some of these are chlorine and ammonia. If inhaled or ingested by kids or pets, it can pose serious health concerns. Menawhile, components from eco-friendly cleaners are studied delicately to make sure no harm is done on the planet and its consumers. Some green cleaners, such as Veles, use organic compounds (e.g. acetic acid and lactic acid) as its main ingredients. It's a lot safer for the home and the Earth.
2. Health threat vs healthy
Aside from possible death, conventional products which are made with hazardous chemicals can also cause allergies and irritations. Coughing, sneezing, headaches and skin rashes are some of the symptoms you may experience. Some chemicals are too strong that it can take days to get over. However, green cleaners will not expose you to the symptoms aforementioned. Due to the ingredients used, the cleaning experience is gentle, even relaxing!
3. Polluted vs Clean Air
Chemicals used in cleaning products cause indoor air pollution. Cleaners release volatile organic compounds (VOCs) when used and stored at home. Long exposure to this may damage the liver, kidneys, and central nervous system. On the contrary, eco-friendly cleaners do not expose you to that risk as they source ingredients that are safe and natural.
4. 'Pick-pocket' vs Wallet-friendly
Believe it or not, a household using green cleaners saves more money than that which uses the conventional one. Why is that so? Because most eco-friendly cleaners are multi-use, whereas the latter are used for specific purposes only. This is how these products trick costumers of being "cheap" but in reality, they occupy a lot of their monthly spending.
Green cleaners, however, save your budget. Most are also sold in bulk or practice zero-waste packaging so you do not have to constantly pay for stuff other than the actual product. Plus, you do not have to pay extra charges for hazard or health risks through its use.
5. Marketing vs helping the community
Social responsibility is taken very seriously by companies making green cleaning products. These companies create processes wherein materials are ethically sourced, and workers are justly paid. What's even greater, portions of profits from this companies are given back to the community and needy sectors, local or global.
How did Ambrosia, Veles' company start?
Ambrosia, the parent company of Veles, is an organization focused on providing a solution to the massive food waste problem while simultaneously creating more sustainable versions of common products and commodities. With this in mind, founder Amanda Weeks launched Veles, Ambrosia's first product.
Veles is a multi-purpose eco-friendly cleaner made from water and common organic compounds – acetic acid, alcohol, and lactic acid. All these ingredients are recovered from food waste. Growing up, Amanda Weeks witnessed how waste, particularly food, contribute a lot to the accumulation of municipal solid waste going to the landfills. So, she was very eager to develop better ways to treat them and 'close the loop'.
In 2014, Amanda's visions finally came to life after she launched Ambrosia. She had to leave her career in consumer marketing to do so. Her decisions proved bold and inspiring as improvements on their processes and findings started to come to light.
Hard work paid off when Amanda finally launched its first product, Veles, in the market. Through crafting this masterpiece, Amanda and her people were also able to scale their bioprocessing technology out of lab, to identify and to validate a roadmap of viable products that can be formed from using food waste. With that, what's ahead of Ambrosia is infinite possibilities of sustainable goods.
Veles components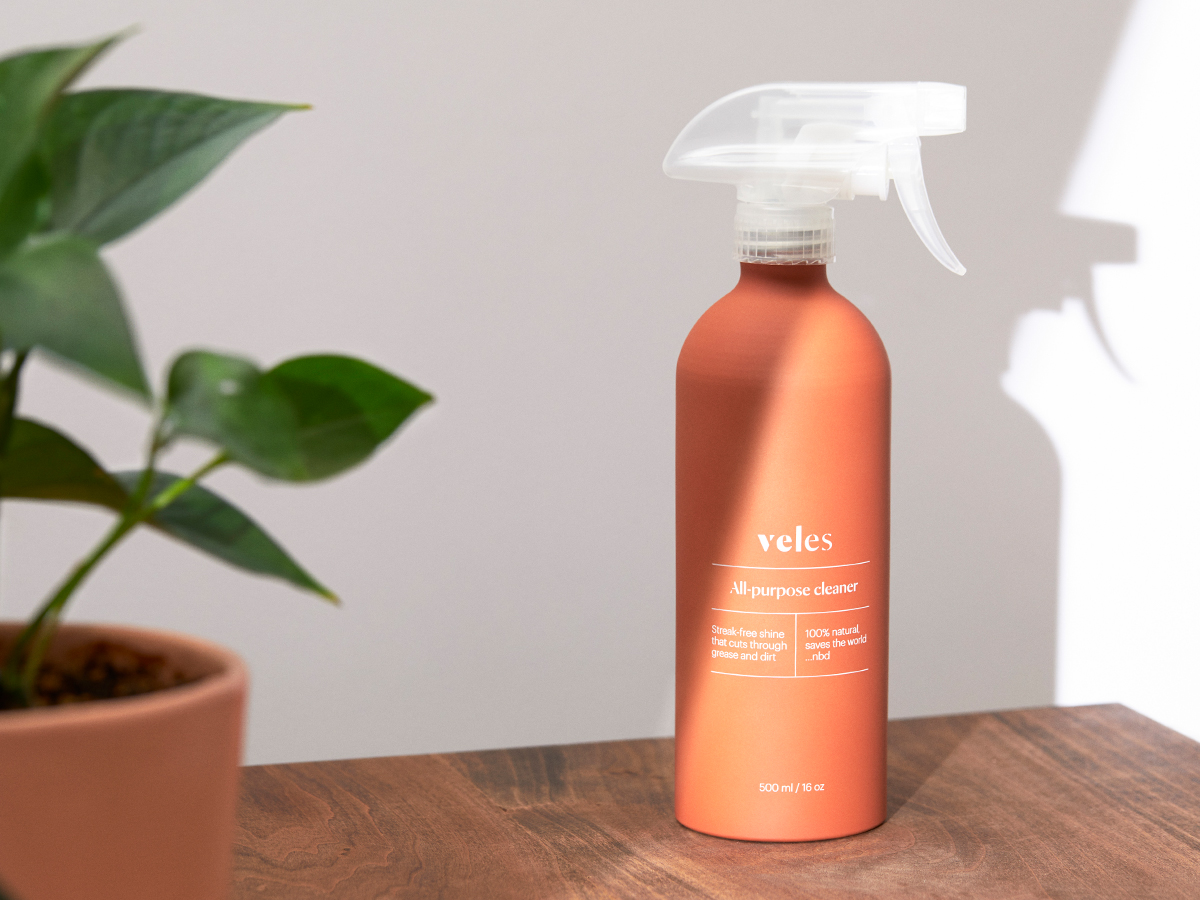 Veles is made of six ingredients, four of which derived from food waste. These are water, alcohol, acetic acid and lactic acid. Water is isolated and purified through a process which is used to take up the largest component of Veles. Meanwhile, alcohol and lactic acid are produced through the food waste recovery process. Then, acetic acid comes as a biological byproduct.
Two other ingredients are added to Veles that are not from food waste, but are responsibly sourced. These are decyl glucoside and essential oils. Decyl glucoside is a plant-based, biodegradable, and safe solubilizer used to stabilize essential oil fragrance in water. The later, on the other hand, are fragrances used such as lavender, bergamot and mint. They are responsible for the pleasant smell of the green cleaner.
How sustainable is Veles?
Veles is sustainable from development to packaging. Active ingredients are recovered from food wastes, other components are ethically sourced, recycles aluminum and glass for packaging, and online marketing decreases carbon footprint. Everything from planning to marketing is done with sustainability as the primary concern.
Aims of Veles
Even from the beginning, Ambrosia and Veles were conceptualized to solve problems on food waste management. Specifically, success on this will lessen accumulation of municipal solid waste, diminish food waste going to the landfill (which creates greenhouse gases), and create sustainable products that are less harmful than the conventional.
2. Ethical sourcing
All six ingredients used to create Veles multi-purpose cleaner is sourced responsibly. Water and three of its active ingredients were derived from the food waste through an ethical lab processing, thus, decrease the use of clean water.
The remaining two other ingredients were also ethically sourced and are obtained in support to local communities.
3. Safe active ingredients
The active ingredients used in Veles are safe both to people and planet. In addition, they are also highly effective and highly efficient, even when compared to conventional products with synthetic components.
4. Eco-friendly packaging
Veles' bottles are aluminum, not plastics. It is so to make sure that they do not pose adverse effect on the environment. As we all know, aluminum is recyclable and is widely accepted in recycling facilities. Even their refill bottles are made of glass, material that can also be easily recycled and reused.
5. Marketing
To get Veles, you need to go online. Purchasing it virtually diminishes carbon footprint acquired from burning fossil fuels. Another admirable marketing strategy is the availability of refills. A refill bottle contains 32 oz of the product which is equivalent to two bottles of the ordinary Veles multi-purpose cleaner.
Conclusion
Every Veles bottle purchased is money spent responsibly. They are born from ideals and goals that are priceless and so full of social and educational value. Who would not want to be a part of that sensible act? This is one of the reasons why every dime spent is worthy. But not just that, the product itself has so much promise. The quality is superb, truly sustainable. And for our family and the environment, we want nothing but that.