Cleaning is one of the best routines to reduce waste. Not only does it help keep you and your family safe, but it also helps you save money. In particular, when you clean your kitchen, reusable cleaning tools are a must. If you want a zero waste cleaning tool that is efficient and safe to use, the Grate Grill Scraper would be great to add to your routine.
Cleaning Grills – Why is this Necessary?
Food preparation, may it be in cooking, baking, and grilling, is essential that proper hygiene is always observed. This is because carelessness or a dirty working area could often lead to a trip to the hospital. According to the statistics stated by Sage Owl, from 2002 to 2014, an estimated 1,698 emergency room visits were caused by wire barbecue cleaning brushes. Such unwanted ER trips are due to injuries or infections caused by wire bristles.
When wire bristles are used to clean grill grates, tiny remnants would be left behind and would stick to the next batch of meat that would be cooked on the said grills. When these small, yet sharp objects would be integrated into the meat, they can puncture the digestive tract of unfortunate individuals.
Complications may occur especially when the wires would migrate to the intestines and other others, leading to serious infections and excruciating pain. The Center for Disease Control and Prevention also warned people about the usage of wire brushes because they pose a threat to people. With this being said, cleaning grills come in handy because it ensures that the food prepared is safe to be ingested.
What is the Grate Grill Scraper?
A Grate Grill Scraper is exactly what its name suggests, as it is a mechanical tool that is used to scrape off dirt and leftover meat from grills. These handy objects are made up of high-quality brass or stainless steel, which can last a long time –probably years' worth of BBQ cleaning sessions.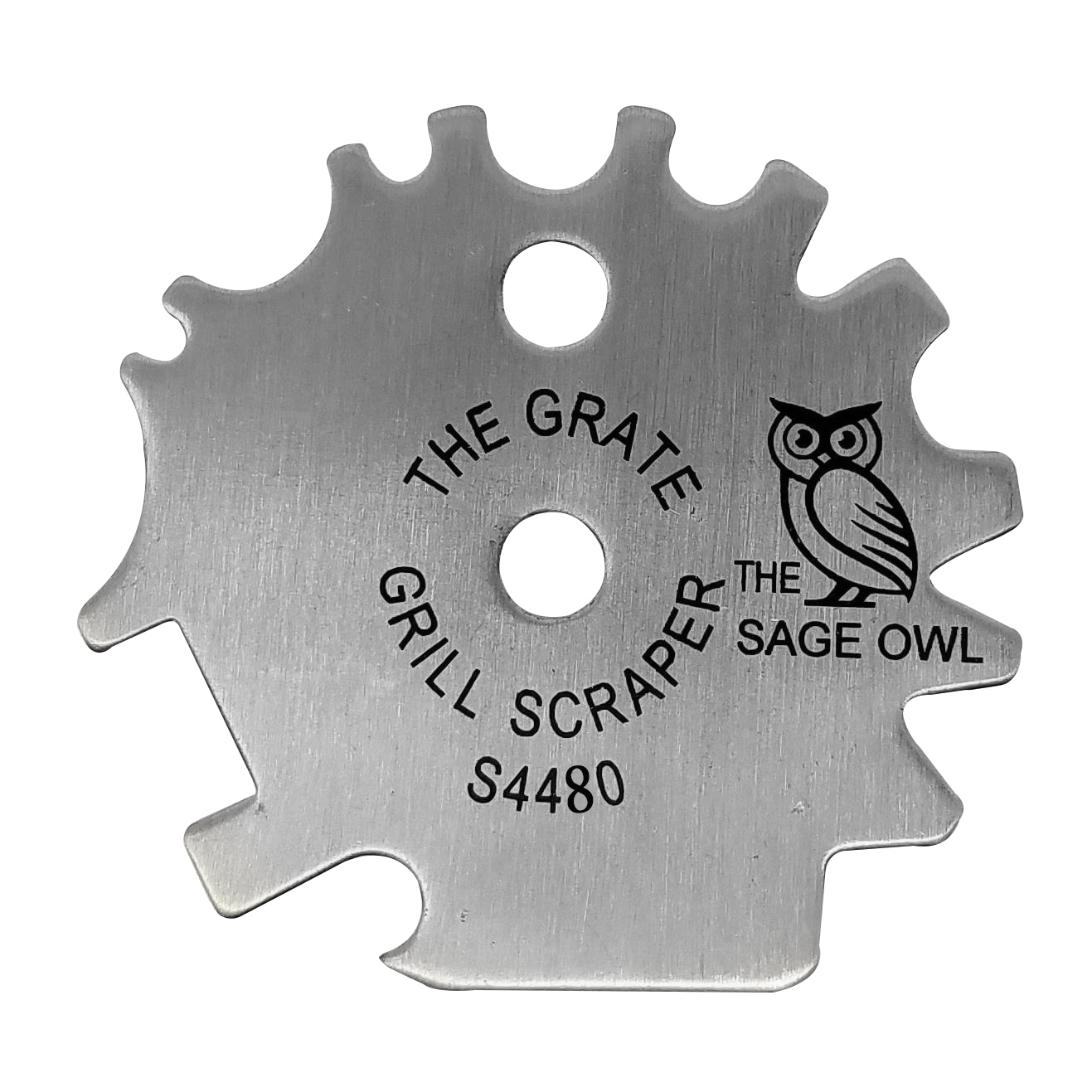 Chuck Blount of Houston Chronicle says that the 13 grooves cut into this circular tool are designed to fit into all forms of grates from charcoal, gas, smokers, griddles, and oven racks, and it can even scrape a cast-iron skillet clean and open a bottle of cold beer.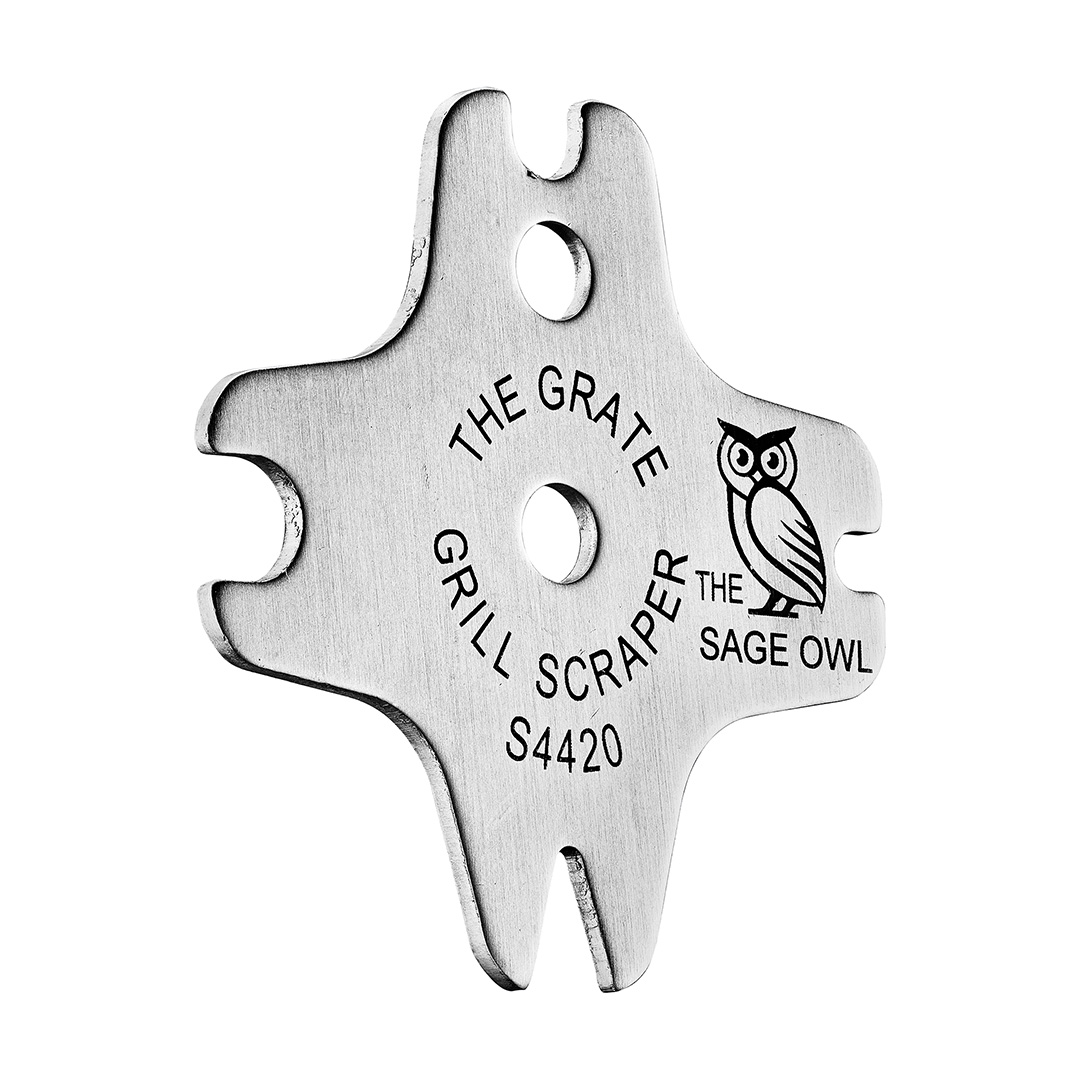 This cleaning tool looks like a ninja star blade due to the notches embedded in the spinning wheel, wherein the notches are designed specifically to clean the individual grooves and grilling bar. This makes the job easier without getting you into the effort of getting dirty in the process.
Moreover, using this tool would not leave behind particles that may be embedded with food –making it unhealthy to eat. With this, using this in properly cleaning your grills would save yourself and other people from having an unnecessary trip to the hospital because of an accident that can easily be prevented.
How do you use the Grate Grill Scraper?
After a grilling session, leftover meat, accumulated dirt, and gunk may be left behind. With the Grate Grill Scraper, choose the appropriate notch that fits best on the grates of your grill and use it to scrape off the mentioned leftovers.
You may opt to use cleaning agents with flowing water while scraping, as this can help in cleaning the grills better. Moreover, it is also good to scrape dirt whilst the grills are still hot because it has not solidified yet. The wheel is affixed to a long aluminum handle, which helps you clean your grill while it's still hot.
Grate Grill Scraper vs Wire Brush vs Wooden Scraper
Sarah Meyers of Robb Report compares the different tools used for cleaning grills. According to the article, Grate Grill Scrapers, more specifically The Sage Owl Grate Grill Scraper comes in a variety of high-quality and heavy-duty materials and will last longer compared to other tools. It is not also a burden to carry since it can fit in your bag, pouch, or even pocket, meaning that it can be handy when you are always on the go.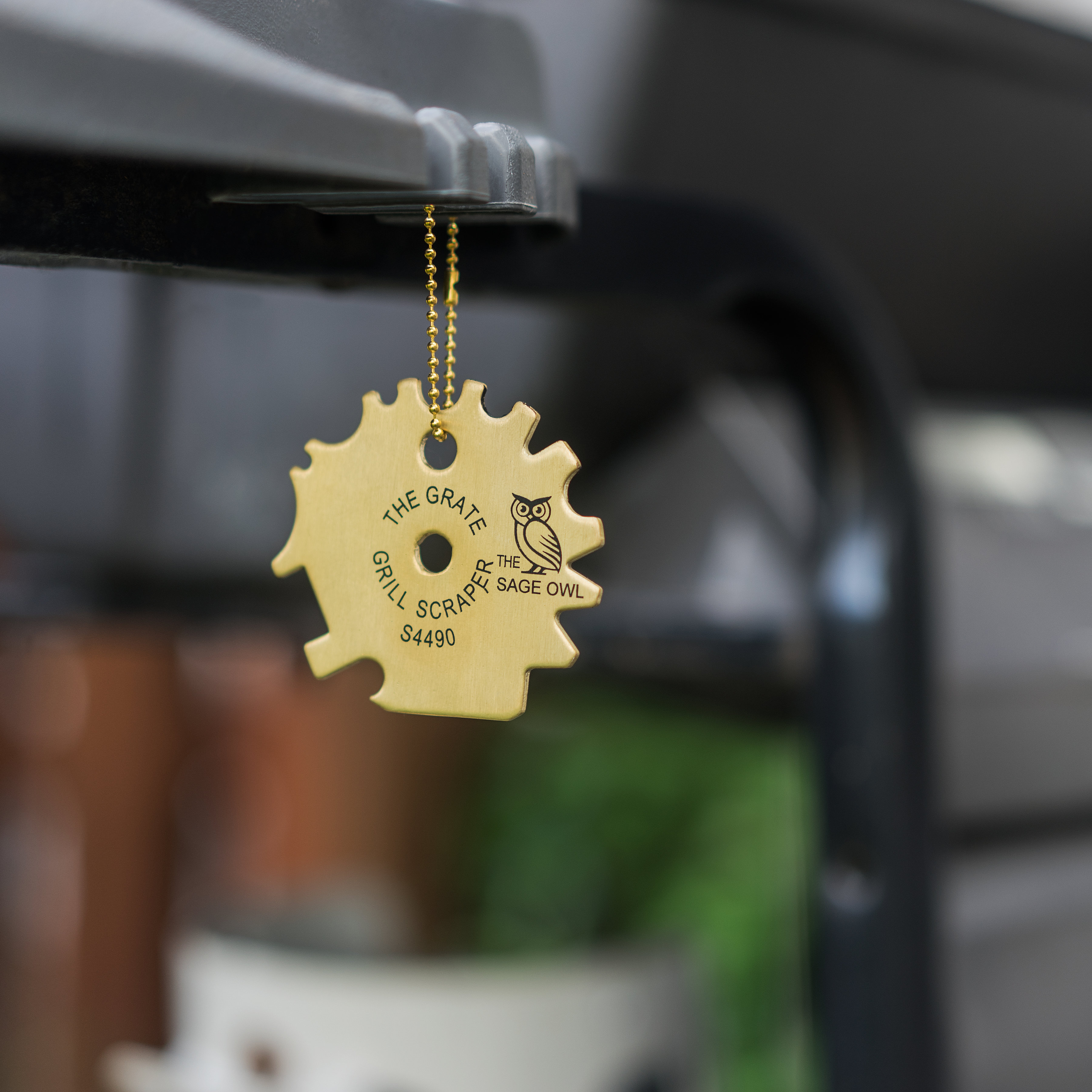 Compared to the dangerous wire brushes, it does not leave tiny wires in grills that can end up in food, this is because small parts of it can break off easily – it can easily be deteriorated and can also be risky to handle, and even dangerous to small children. Traditional wire brushes are the ones previously used and cannot target the individual grooves in the grills, unlike the Grate Grill Scrapers.
Lastly, another competitor also comes into the picture, which is none other than the Wooden Scraper, specifically the Easy Function Grill Scraper. Although it can be easily said that it lacks longevity or long-term use as opposed to the Grate Grill Scraper, this wooden counterpart makes up for sensitivity. It works on all types of grills and does not leave a scratch. Moreover, the more you use the scraper, the effective it becomes because it will eventually mold into the shape of the grills. It also targets multiple grooves at a time, which saves you more time in cleaning compared to the stainless steel Grate Grill Scrapers that only target one groove at a time.
Pros and Cons of a Grate Grill Scraper
Pros:
The Grate Grill Scraper makes the job of cleaning grills easier and safer. It comes in a design wherein it has different notches that are perfect for various types of grills. These tools are also sharp and cut through tough residue and are portable because of their compact design.
Cons:
When you buy the wrong one for the type of grill that you have, it will actually damage it. According to Sage Owl, the brass models are good for Teflon and Porcelain-coated grill grates, because it is softer than stainless steel –making it safe to use as it will not scratch the coated grill grates.
Stainless steel models are for chrome plated, stainless steel, cast iron or any old, rusty, crusty grill grates. Compared to its brass model counterparts, it is more resistant to damage, and can be used for multiple and rigorous grill cleaning sessions.
Sustainability of Stainless Steel and Brass
When it comes to sustainability, it enables long-term use of this tool made up of stainless steel and brass because it eliminates the need to constantly buy unsafe cleaning tools in the future. Hence, the production of the said materials will lessen – cutting the Carbon emissions that are byproducts of the process.
Moreover, stainless steel and brass tools would also benefit the community as it provides a better and safer alternative in cleaning grills. This is due to the fact that it can be easily stored or kept, and will not pose a potential hazard to people – especially children, who can be very playful all the time.
Should You Get A Grate Grill Scraper?
It is no question that Grate Grill Scrapers by the Sage Owl Company is considered an essential tool in your grilling sessions. Its durability is excellent due to the heavy-duty and high-quality materials that this product is made of.
Besides the excellent and handy usage, the grate grill scraper also eliminates the risk of having the need to go to the Emergency Room because small wires are puncturing your insides. Every household should truly consider buying this tool to ensure the cleanliness of the grilling appliances.