Going to the beach is one of the most enjoyable past times for many people around the world. There are even people who fly far to experience the wonders of the sea and sand. Unfortunately, before the pandemic, beach resorts worldwide are packed full of tourists and worryingly of trash. So it's somehow a silver lining with the pandemic that many of these popular beaches began to recover their natural beauty as locals work together to clean up and rehabilitate their areas in the meantime.
For some, going to the beach might be a possibility already, but we need to keep in mind that we should enjoy it while respecting nature. To help you plan for your next beach outing, I asked several lifestyle bloggers, travel bloggers, food bloggers, travel experts, environmental experts, and industry insiders. Learn from their insights and get inspired to enjoy the beach with less waste and more fun.
Why are beaches important?
Fun Destination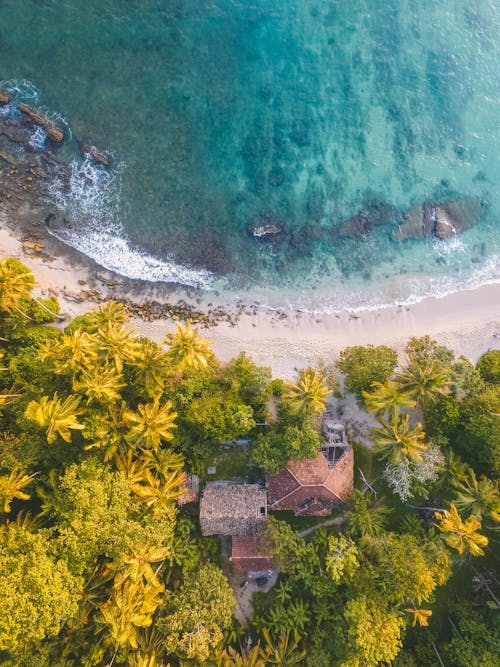 Summer is the perfect time to go out and have fun, and the beach is the first destination that comes into our minds. However, due to the excitement, we have during our beach trip, we forget that we do things that contribute to making our beaches polluted and, if neglected, may have adverse effects. As a result, the beach might no longer be a destination for enjoyment in the future, says Martin Seeley, Chief Executive Officer at MattressNextDay.
For George Mouratidis, Marketing Professional at Stasher, it is very important to protect and conserve our natural resources. So as someone who loves to go on trips and adventures, he makes sure that he is an eco-friendly or sustainable traveler. He always tries to enjoy his time while still respecting the environment. Beaches are probably one of the most popular travel destinations. And tourism has a huge impact on beach pollution.
Essential for Bioderversity and Ecosystem Balance
According to Nadia McDannels, the founder of Berry Abundamy Life, beaches are important for many reasons. First, it may help define what we mean by a beach; a beach is a narrow, gently sloping bit of land that lies along the edge of an ocean or sometimes a lake. They usually consist of rocks, sand, and sediments. Beaches are buffer zones between the land and the ocean and the seafloor, and they are very dynamic; they frequently change due to erosion, tides, currents, and waves.
A lot of marine life depends on the health and safety of the beach, like turtles and birds, which nest and rest there! It also acts as the first line of defense against storms. It absorbs wave energy before it comes into contact with whatever lies beyond it, protecting people and their property.
Besides being a destination for fun and relaxation, the beach also serves as a home for many sea creatures that help maintain the earth's equilibrium.
For Bethany Newark, a wildlife biologist, beaches provide recreational opportunities for people in sailing, swimming, swimming, water sports, walking, bird-watching, and playing. Beaches also protect residents living nearby because they are a buffer against high winds and waves of powerful storms. In addition, beaches provide essential habitats for thousands of species; sea birds, crustaceans, marine mammals, invertebrates, mollusks, sea anemones, corals, and more!
Beaches are home to everything from pelicans to plankton, and their survival depends on the landscape and nutrients available to them. Pollutants introduced by humans have had a great impact on the survival of many species, which can lead to imbalances and failure of the ecosystems. says Christen Bradbury, Owner, Love the Earth Co.
How does waste pollution threaten the beach experience?
According to Christen Bradbury, pollution can destroy the habitat of animals and plants living in the ocean. And polluted beaches also pose health risks to people who come in contact with it. These are just some of the negative impacts of pollution on beaches.
Contaminate the ecosystem and lead to wildlife death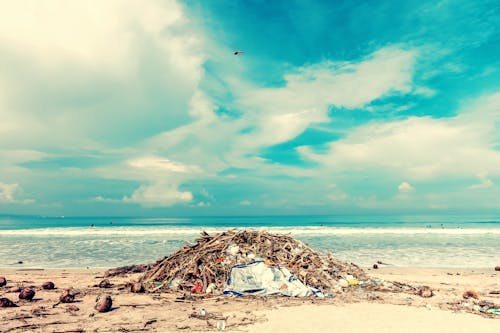 Waste pollution introduces unfamiliar materials and foods into an ecosystem that can be dangerous for wildlife. Not only can they entangle wildlife, leading to strangulation, drowning, and inability to eat, but if consumed, they can cause intestinal damage, toxicity, and lead to lack of necessary nutrition,
For Martin Seeley, it is unappealing to look at. Second, it depletes oxygen that makes sea creatures die, which can be toxic to humans and animals.
Bethany Newark says, "Beach pollution can take many different forms. Sewage, bacteria, and toxic chemicals can pollute the water and be hazardous to both wildlife and humans. Beach pollution can also include litter, such as plastic bags, cans, and debris from the ocean that washes up on the beach. All beach pollution is harmful to wildlife; animals can choke on litter, get tangled in materials, consume plastic or other harmful substances. Floating plastic can prevent ocean plants from growing. Pollution can prevent animals that live in tide pools from having enough food. Pollution in the water from the chemicals in sunscreens are also damaging to marine life and coral reefs."
Nadia McDannels notes how she already have to pick up trash she finds on the beach, but she can't imagine not finding a nice spot because it's absolutely covered in it. Unfortunately, that's where we're headed. And it threatens marine life too. It highlights why making eco-conscious choices in our daily lives is so crucial.
Harms Human Visitors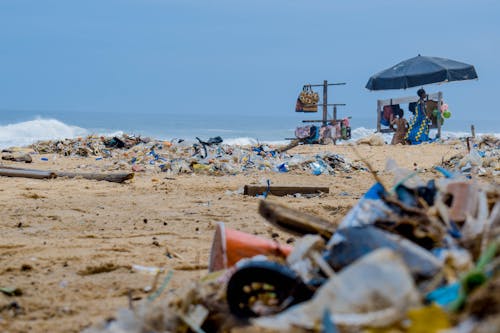 Torben Lonne, travel expert and founder of DiveIn, says, It's not uncommon for people to slip on a bag on the beach or perhaps cut themselves on a broken bottle. This can seriously affect their beach experience and cause a lot of stress and potential injuries. Aside from the negative impact waste has on the environment, simple things like plastic bags, bottle caps, or food waste can be quite dangerous for people.
Melanie Musson, a travel expert with US Insurance Agents, also said that waste pollution makes the beach unpleasant visually. It also makes for dangerous conditions for visitors and wildlife alike. People don't hang out at dumps because they smell bad, they're full of hazardous chemicals and by-products, and they're ugly. However, if a beach isn't treated with respect and care, it can turn into a dump.
Zero Waste Beach Activities
Rowing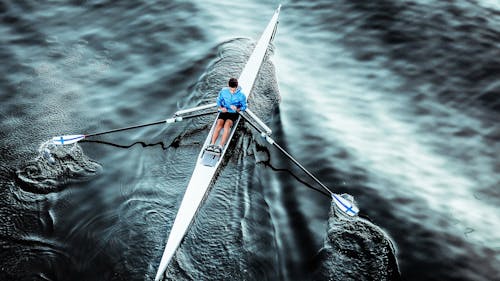 It doesn't need a machine, so fuel leaks can be prevented because fuels are toxic substances that can make sea animals die, says Martin Seeley.
Surfing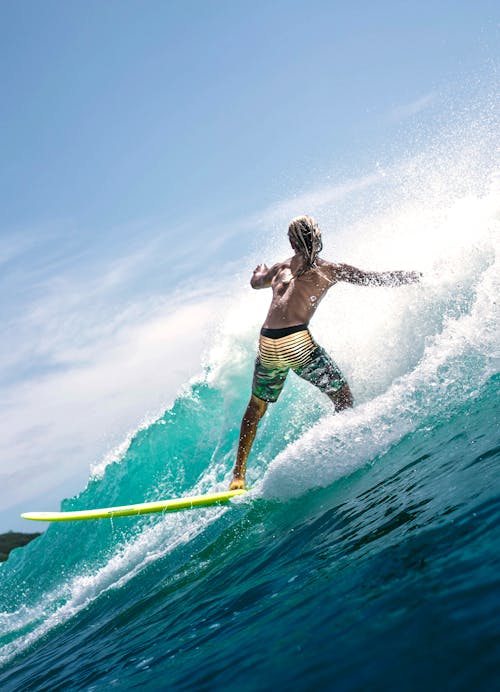 For Grant Draper, Owner, SkiSurfWake, a trip to the beach is the perfect getaway for a person who enjoys the sun. Besides being a place for relaxation, you can also do different activities while you're there. Surfing won't cause any damage to the beach because it only requires a surfboard and, of course, the waves. Also, bringing food in a reusable container and eating with bare hands prevents generating garbage that can be toxic to sea creatures and might be a reason for their death.
Any activities that don't disturb the beach and the wildlife
Bethany Newark says, The "leave no trace" policy is important to remember, which means you don't leave anything behind and don't disturb the beach too much or remove anything from it. "Take nothing but photos, leave nothing but footprints" is a good motto to go by.
Zero Waste Snack Tips
Pack with reusable containers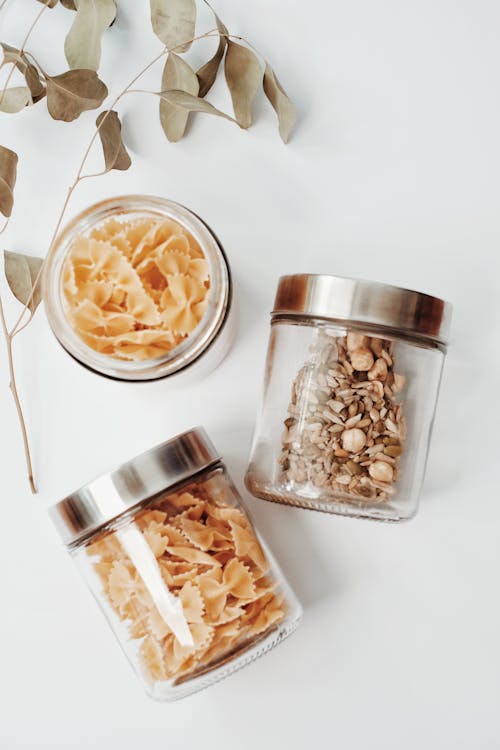 Avoid chips packed in aluminum or plastics because they can be garbage to the shore and brought to the beach, says Martin Seeley.
Christen Bradbury also adds, what you take is not necessarily as important as how you take it or what you do with the waste when you're done. For example, if you're packing sandwiches, using reusable containers is always better than using single-use zip bags. Avoiding single-use items is a good idea at the beach and everywhere else! Plan on taking out all the waste you bring, even if there are trash cans nearby – there is often a lot of wind, and your trash could end up back on the beach.
Avoid plastic as much as possible
For George Mouratidis, it would be best if the food that you would bring has no plastic wrappers.
Make snacks at home
Snacks that you prepare at home and so don't come wrapped in plastic are the best ones to bring to the beach because the wrappers won't blow away and pollute or litter the beach, advises Bethany Newark.
Fruits and veggies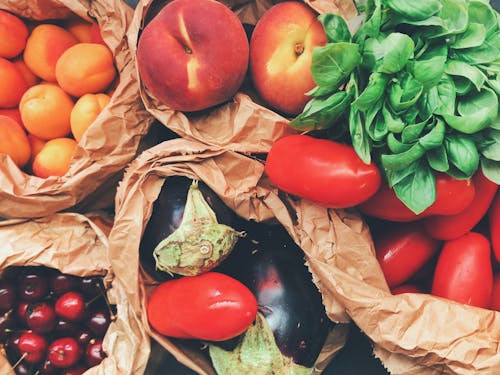 For Nadia McDannels, the best snacks are undoubtedly fruits and veggies, from watermelon slices and halved strawberries to cucumber slices and carrot sticks. Stick it all in a reusable container, and if your little one drops a bit, there's no harm done. And definitely don't take plastic straws!
Sticking to the food theme, it's important to reduce your fish intake; fishing industries are the ones causing serious damage to our marine ecosystem. And you don't have to commit to full raw vegan; the more fresh produce we eat, the better for our health, the animals, and the world around us!
Apples, sandwiches, and hard-boiled eggs
Melanie Musson recommends these because they are amazing and enjoyable foods to bring to the beach. Just make sure to package them in eco-friendly containers to keep the sand off.
Zero Waste Beach Tools
Recycled versions of toys and games
According to Christen Bradbury, when trying to be more eco-friendly, it's always important to consider your waste, so investing in higher quality items that are less likely to break quickly is key. Also, limiting the use of plastic versions of toys and games can help. Some ideas would be using wooden paddle sets, bocce ball sets, and skimboards. If you are going to use plastic items, try to find recycled or durable options.
A garbage bin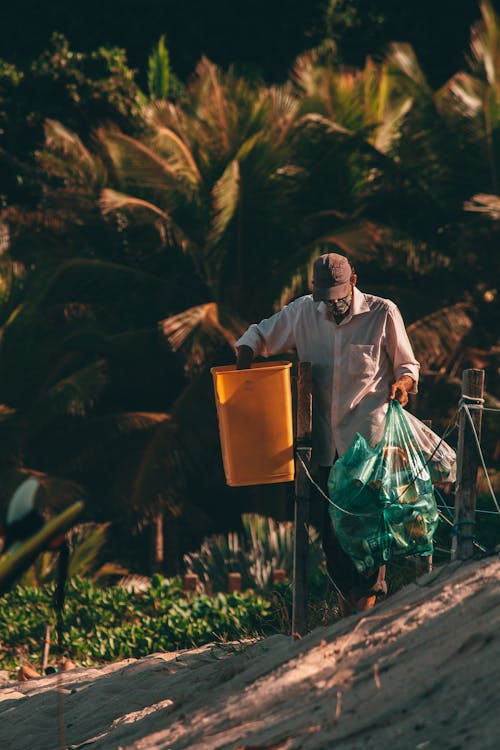 To Martin Seeley, the main reason why there is a lot of garbage at the beach is that people cannot easily find a place to throw their garbage. By bringing your own, you can quickly dispose of your garbage within reach, and you can bring it as well when you leave.
Ocean-friendly sunscreen
According to Bethany Newark, making sustainable switches from single-use plastic items to reusable ones is a great start as this will reduce the amount of little that could end up in the ocean. It's also essential to use ocean-friendly sunscreen, even if you don't plan on swimming, as all our water ends up in the ocean eventually. Unfortunately, the harmful chemicals in sunscreens are not always able to be removed by water treatment plants.
According to Dr. Kate Viola of Henry Ford Allegiance Dermatology, mineral sunscreen with active ingredients of zinc oxide or zinc plus titanium dioxide act as physical barriers to deflect sun rays. Safe for you, your family, and the coral reefs.
Other than trash, humans cause significant harm at the beach with the sunscreens they use. Many sunscreens contain chemicals that are toxic to marine life (and, to be honest, aren't great for us humans). In particular, try to find a non-nano mineral sunscreen, says Christen Bradbury.
A beach towel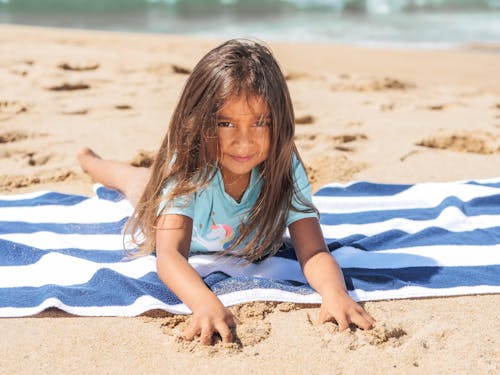 Melanie Musson advises that a towel is one of the easiest and most useful things to bring to the beach. This gives you a place to sit or lie down, and it will also dry you off and keep you warm.
Binoculars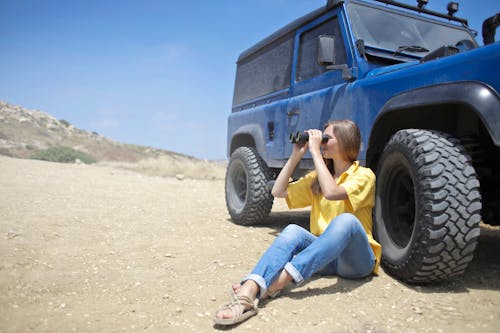 Use binoculars to view wildlife. You'll gain a new appreciation for birds, dolphins, and any other wildlife you see when you can view it through binoculars.
Conclusion
The best way for people to enjoy the beach without harming the environment, says Sandi Schwartz, Author of Finding Ecohappiness and Parenting, Wellness, and Environmental Journalist, is to help keep it pristine by doing beach clean-ups. Nature offers so much beauty; it must stay pristine and garbage-free. The beach is not only important to wildlife and protecting our coasts, but it makes us feel better, too. Spending time in and around water has been scientifically proven to help us feel happier and calmer. Additionally, volunteering and helping our community also reduces stress and boost our mood. Volunteers feel more connected to nature and less stressed after spending time outside cleaning up the beach.
A Marine Conservation Society assessment found that beach clean-up volunteers had a more meaningful experience than other coastal activities, like simply walking on the beach. They felt refreshed a stronger connection to the natural world, and a sense of satisfaction that the beach was visibly cleaner. Doing a beach clean-up is a simple activity that people can do as a family, with friends, or by joining an organized group event.
For Grant Draper, most people still aren't aware of the saying "clean as you go." It is sad because it causes some beaches to be polluted; thus, it can no longer serve its purpose of being a habitat for sea creatures and be an ideal spot for sun addicts. So, ensure that whenever you go to a beach, do not leave even a single plastic because it can be carried away in the ocean and pollute our favorite vacation spot.