DIY and upcycling are two activities significant to a sustainable lifestyle. They encapsulate the creativity of every person to reduce whatever they have before throwing anything away.
I asked prolific DIYers and upcycling enthusiasts worldwide about how they integrate DIY and upcycling in living with less waste and more eco consciousness. Get inspired to start DIYing with their insights.
I have been making my own items since I became a mom almost 10 years ago. I have always been crafty, but I do look at DIY as a way of saving money. When I started my family we went down to a single income. I used DIY as a means of stretching our budget.
I taught myself to crochet via YouTube and made my kids their own hats, mitts and toys. I later created patterns and fibre crafts to sell for extra money. I also began sewing dolls and making natural bath and body products for my family.
I usually only make items for my family or for gifts. I will often film a blog or tutorial on a project, but only if I am making it anyway. I love to experiment with new techniques or learn new DIY skills.
DIY is not only a way of saving money, it is also great for the planet. I love to upcycle old furniture that I get off buy and sell sites or even the side of the road. I love knowing I am making something beautiful and helping the planet. I also am an avid thrift shopper where I will look for fabric or other items that I can use in future projects.
In my life, many of the items I choose are second-hand. I like to look for
quality items used rather than cheaply made items new. This helps me waste less. I also look for opportunities to DIY that eliminate unnecessary waste. For example, making my own 'unpaper' towels or reusable baby wipes to save money and go green.
If you want to start DIYing I would suggest looking at your local home building store to see if they are hosting seminars on topics of interest. In my area you can often learn simple maintenance DIYs, power tools 101 or gardening for free. There are also many free tutorials available online. You can also reach out to friends and family to share their knowledge.
Raised by a mother who survived the 'Great Depression', repurposing, recycling or simply 'making do' to save time and money, is part of my DNA. In fact, three years ago, I published a book, Gilded Pearls (Vibrant Thought, Tips And Tidbits For A Full Life). There I talked about sharing, reusing or repurposing everything from Christmas ornaments to leftovers to make tasty new dishes.
My mother re-used lots of things. Old cotton t-shirts were washed and used for cleaning, dusting. Aluminum foil if it was still clean after use was wrapped down and reused several times.
I have always been creative. My sister reminded me that i made her second grade Halloween costume using other clothing etc for which she won first prize.
I make items repurposing yard sale and thrift store items for home decorating projects and to give as gifts. Twice a year, I host a Pop-up sale out of my home to sell many of my items which are made from fabric like recycling a curtain valence into throw pillows, or decoupaging (a paper and paste decorating) wood, glass. I also teach craft classes at my local libraries.
In my classes and talks, I invite folks to look at items differently. For example, instead of putting away those pretty ornaments when the holiday is over, why not display them in a clean glass bowl on your dining table or wherever you need a pop of color in your home? So many things can be used in different ways if you look around.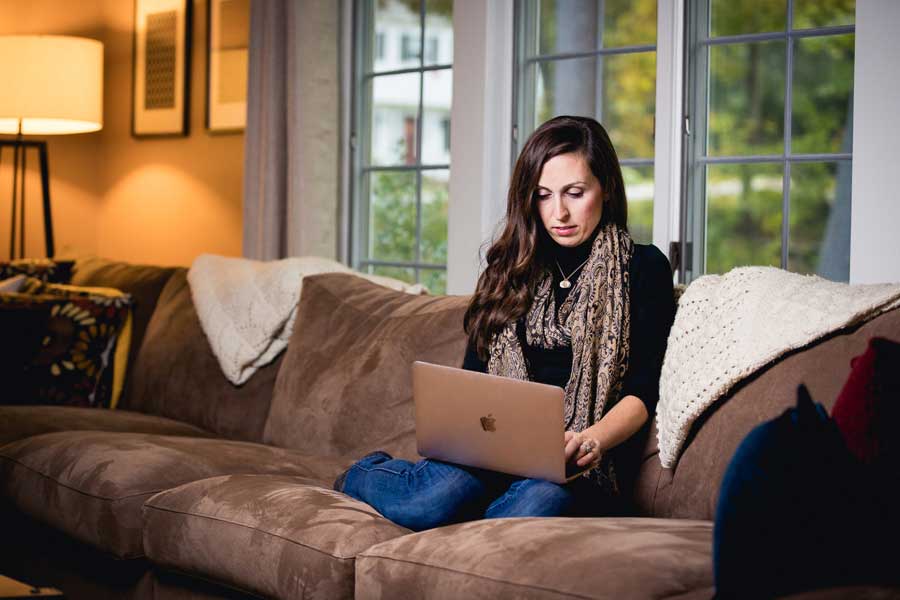 For me, DIY is a primary means of practicing sustainability; upcycling is crucial for trash reduction, too. DIYing supports my eco-friendly ideals because making items at home means I do not have to buy them at the store.
Buying less is an incredibly eco-friendly practice because it prevents new goods from entering the waste stream. DIYing is also a valuable way to upcycle goods that otherwise would become trash. My family is on a mission to reduce the amount of trash we send to the landfill each week nd, thanks to DIYing, our trash continues to shrink.
I create my DIY projects from items in my home that I do not want to put in the garbage can. Cute glass jars transform themselves into beeswax candles. Clothing and other pieces of fabric that are ripped, stained, or otherwise in a condition that renders them non-donatable are upcycled into cloth napkins, handkerchiefs, quilts, beeswax wraps, reusable menstual pads, and more. My most recent project entailed salvaging the yarn from a ripped wool sweater and creating wool dryer balls. After I complete a DIY project, I like to share my successes and failures on my blog to help others embrace an eco-friendly, DIY lifestyle.
My number one tip for anyone looking to start DIY projects is to have short term and long term goals. On the short term, start small and keep expectations low. Embarking on a tiny project (darning a hole in pants, for example) means your probability for success is greater than if you attempt a grand project. For the long term, consider which skills are essential for self-sufficiency. Learning how to use a sewing machine is one skill that has proved invaluable on my own journey to zero waste living.
As a father, I want my kids to grow up in a world filled with wonderful and amazing things and one simple way I can make sure that happens is by preserving what I can by living by a sustainable and DIY lifestyle.
Doing DIY has not only made me learn new skills, and appreciate the value of hard work, but it has also been an effective means of bonding with my kids and making them more socially aware and responsible. I live by the DIY lifestyle because it's fun and exciting, but also because I want to live by example.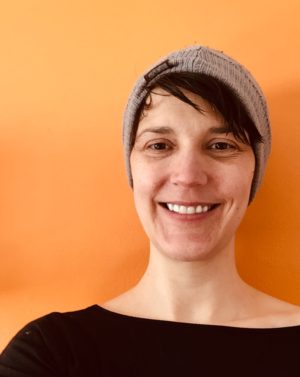 DIY is about commitment and compromise. Most DIY projects start with an inspiration and the belief that "I can make that!" What follows is (sometimes years of) searching for the right materials in the secondhand world to make the vision come to life, a dedication to creating your vision, and the compromise of time in efforts that go into making the creation. The compromise of time also includes not having the initial satisfaction that comes from purchasing new — which is far surpassed by knowing you've created something wonderful on your own, especially if it's done without waste or with minimal waste.
I've always been fairly resourceful when it comes to decor – creating curtains from old sheets, painting old furniture, "dumpster diving" — but my true love is braided wool rugs, which I started making after taking a vintage skills class at my local history museum.
While I am a blogger, most of my projects are inspired by those I love. Those inspiration projects are largely gifted to the respective individuals.
Most of my projects include second hand clothing. I favor woolen articles, but also love of upcycling my kids clothes and secondhand finds.
My husband and I recently turned an old fruit box into a side table. We plan to create coat hooks with old pallets this summer, and my daughter and I are needle felting and old office chair to give it a unique look in our craft room.
Much of the waste in our life comes in the form of packaging for food. Generally, I try to find a new use for it (or at least a second use for it) before discarding. Currently, much is being used as containers for gardening. Old yogurt and sour cream containers, as well as bread bags, are great for starting seeds as they can make a little greenhouse until they've sprouted
If you're looking to start upcycling, start going to farmers markets and attending art fairs for inspiration. Seek out classes at local museums and nature centers — anywhere that encourages sustainability. Start looking at things with an eye for the long term. Instead of seeing something for what it is at present, look at it for its materials and their strengths. If you think there's potential, there probably is. If you're not sure what it is, go to Pinterest and seek out further inspiration.
DIY to me means that instead of throwing things away, or expecting other people to fix your problems or make your garments/things you take matters into your own hands. Although we are all on different levels of creativity and craft skills everyone can do something. and DIY is a great way to explore your creativity whilst at the same time contributing to the zero waste spirit.
I started getting into up-cycling and sustainability originally because of my little sister who is somewhat a low key environmental activist and she inspired me to do better. Then as I studied fashion design in Milan in a university full of rich overconsuming people (no offense to them), I realized how messed up the fashion industry is and I wanted to make a change which is why I started Wanner Label.
What I mostly use in DIY projects is scarves and blankets as they are big pieces of fabrics which can easily be made into anything else, and they are also very comfy and soft.
Hamna Amjad of Centriq
DIY is a creative outlet for me to escape from the stress of everyday life. It helps me unleash my potential and gives me a sense of fulfillment when I get something done without hiring someone. Moreover, I have been able to achieve my goal of sustainable living by investing more time and effort in DIYing.
I started DIYing after having bad experiences with the people I hired for home projects. Over time, I realized that I had the ability to do most of these projects on my own. I started with simple and easy projects and slowly worked my way up to more advanced projects.
Besides using these DIY projects for my home improvement, I also like to
write about them on different blogs.
Of course, reusable materials are always my top priority when carrying out a DIY project. However, it doesn't mean that I compromise on the quality. I am willing to spend more when I have to. However, I try to create a balance by using recycled materials whenever possible.
Most of the time, I keep the waste from my DIY projects for future home projects or for school projects of my kids.
Pinterest is your best friend if you want to start DIYing. You can find endless ideas there. You can simply pin the projects that you would like to try and create different categories for different kinds of projects.

To me, DIY means keeping your eyes open to what you already have, and how you can work it in different ways to be able to use it past its normal life cycle. For example, if you have an old chair that is worn through and maybe not the best for sitting on anymore, you can easily work it into a flower pot holder for your garden, or use the wood for another project.
I started upcycling when I realized how much people were throwing away. I would often see old furniture and other items laying by the curb, waiting to be thrown in the dump. That's when I decided to make those items desirable again, and give them a whole new life span. There's no need to throw something away when it is still usable! You can always update it or transform it to make it to your liking.
For a short while, I would re-do old furniture and find a place for it in our home. But when I realized that we didn't need any more furniture, I started Adonis Blue Designs, an online source for people to buy the upcycled furniture. There I also offered for people to bring me their old furniture that they were thinking about throwing away, and do custom work for them. The goal is to show others that there is no need to just throw things away when you can simply transform them into a reusable piece!
In DIY projects, I use things that I have around the house; paint from when we re-did our bedrooms, wood from an old closet that we took apart, even old light fixtures that were falling apart. I'll often use old bottles and jars that I clean out. If I need something specific, I look at Goodwill or other used goods stores first.
We try to be very cognizant of what we are throwing away, and what can be re-used. Anything that can possibly be reused, we add it to what we call the Project Box. That includes bits and pieces from DIY projects, house projects, and daily living. Almost everything in the Project Box gets used at some point or another, and it keeps our waste level way down.
For those who want to start DIYing, go through your house/apartment and start collecting things that you think you don't want or need. You can do some online searching for specific ideas on certain objects, or try to come up with your own ideas (turning tin cans into beautiful candle holders, using an old sweater to make a chic pillow case, etc.). Start with simple step-by-step tutorials to build your DIY confidence, and you'll be creating your own tutorials in no time!
DIY means the mentality of finding a way to do things yourself instead of
relying on buying premade goods and products. When you live sustainably,
you always try to think of creative ways to replace the conventional way
of doing things. This can be anything from growing your own food to
avoid buying at the grocery store, to setting up an off-grid home
powered by solar panels and windmills. It really depends on how far you
choose to take it.
My dad taught me a lot when we would go on fishing and camping trips. I learned to make the most of what I had on-hand and learn new ways of doing things. When your camping outdoors you have to live minimally and helped me get in the habit of being sustainable.
So far most of my DIY projects haven't left the house, although I do plan on selling them online one day.
I recently bought a 3D printer and have been using recycled plastic to create toys, art objects and other prints I found online. I had to buy the entire kit, including to melt and prep the plastic for printing, but I think it's one of the most sustainable ways to upcycle plastic these days. Plastic is everywhere, and since it won't biodegrade for another several hundred years, we may as well re-use it to make things. So far, I've made some basics such as plastic cutlery and plates, but I plan on attempting some more complex 3D prints soon.
By re-using it and upcycling it as much as possible. Every little bit counts and waste is everywhere no matter where you look. My current project using the 3D printer is waste-free since I've been able to re-use everything. Even if I make a mistake on the print, I can just re-use the same plastic to make it again.
For those interested in 3D printing, there are tons of guides out there to help you get started. It's pretty straightforward, and even someone who isn't a techie, such as myself, found it easy to set up right out of the box. The main issue is the price, as setting up a plastic recycling/printing DIY project in your house will cost a few thousand dollars. You also need to learn about the different types of plastics and which ones can be re-used.
To me, DIY means that I choose to create some things by myself instead of buying them. This also means that I try to limit things that I throw away, because I should save recyclable materials for my next project.
I actually started creating DIY crafts because of a school project. From there, I found out that I am actually good at crafting and I started doing things on my own.
There are a few things that I have given away to friends and relatives, but most of my projects are for my personal use because that's the whole point of this. I don't create something that I wouldn't use because that would be a waste of time and energy, plus it would create additional
garbage.
I mostly use recycled materials because again, DIY should be about reducing the carbon footprint. Cardboards from cereals, tubes from tissue paper rolls and the like.
A tip I can give to those who want to start DIY is to just start. Don't hold back. After all, there are no rules in DIY. It's called do-it-yourself because no one will tell you what to do but yourself.